Poll: Is Anti-Zionism Anti-Semitism? Plurality of Americans say no - 3/9/2020
Addressing the American Israel Public Affairs Committee (AIPAC) policy conference on March 2, Vice President Mike Pence proudly proclaimed "It is the position of the United States government that anti-Zionism is anti-Semitism." The line received thunderous applause.
A plurality of Americans disagree. 47.7 percent do not equate anti-Zionism with anti-Semitism while 30 percent do. Written responses (22.3 percent) to the poll were mostly "I don't know" (6.4 percent) or equivalents (2.2 percent), as respondents grappled and responded to the question with other answers.
Question: "VP Mike Pence proclaimed, 'anti-Zionism is Antisemitism.' Zionism is a political movement supporting a Jewish state while Antisemitism is a form of bigotry against Jews."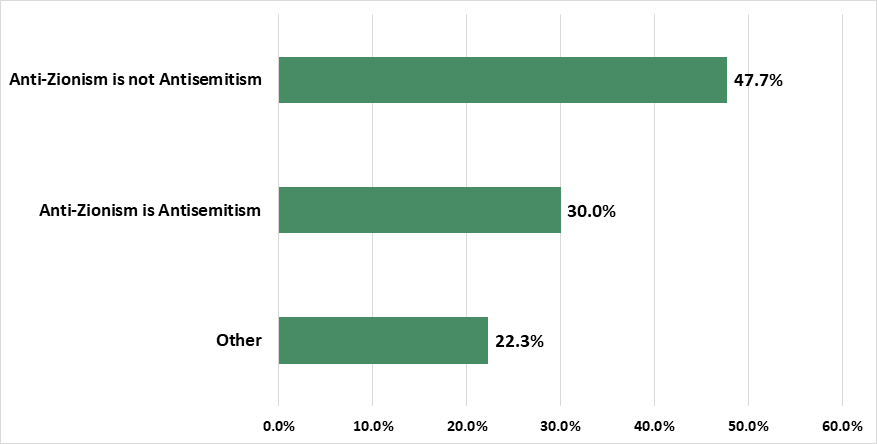 | | | |
| --- | --- | --- |
| Anti-Zionism is not Antisemitism | 47.7% | |
| Anti-Zionism is Antisemitism | 30.0% | |
| Other | 22.3% | |

Survey Question "PVP Mike Pence proclaimed, 'anti-Zionism is Antisemitism.' Zionism is a political movement supporting a Jewish state while Antisemitism is a form of bigotry against Jews.'

Developed by: IRmep
Survey fielded by: Google Surveys 03/05/2020-03/07/2020
Representative Sample size: 1,790
Google survey page (link)
Raw survey data from Google (Download)

In the News - 03/09/2020 Poll: Is Anti-Zionism Anti-Semitism? Plurality of Americans disagree with Pence AIPAC proclamation