Americans Don't Want A US "No Daylight" Policy With Israel - 3/10/2017
Israel and its US lobby strongly support a "No Daylight Policy." The characteristics of such a policy are that "the U.S. and Israel can disagree, but not openly" since open disagreement "encourages common enemies" and "renders Israel vulnerable."

In practice, such a policy mainly benefits Israel, which can leverage the appearance of unconditional U.S. support in its own relations with other countries. Former US President Obama is said to have "violated" policy.
Question: Israel & its US lobby want a "no daylight" policy of the president never openly criticizing Israeli settlements, giving Israel billions in aid, & diplomatic support at the UN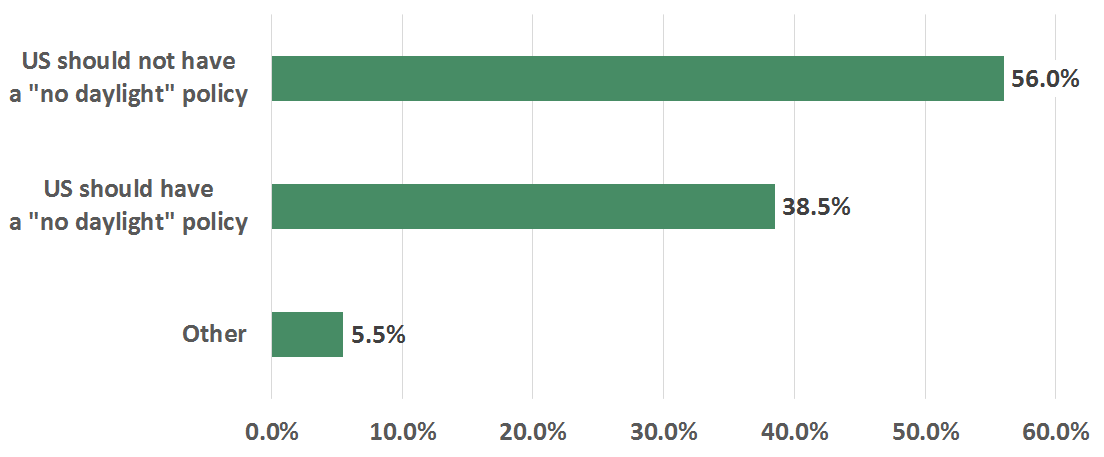 | | | |
| --- | --- | --- |
| US should not have a "no daylight" policy | 56.0% | |
| US should have a "no daylight" policy | 38.5% | |
| Other | 5.5% | |
Survey developed by: IRmep
Survey fielded by: Google Surveys 3/10/2017
Population surveyed: US Adult Internet Users
Representative Sample size: 1,026 Statistically significant
Google surveys page (link)
Raw survey data from Google (Download)