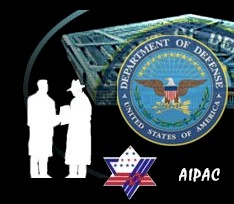 PRESS RELEASE: Institute for Research: Middle Eastern Policy, Inc. Amicus Brief in the AIPAC Espionage Case

FOR IMMEDIATE RELEASE -- Contact: Grant F. Smith, (202) 342-7325
---
Judge rejects IRmep's request to weigh in on espionage case
March 1, 2006 Judge Ellis ruling on IRmep's Amicus filing request PDF
---
A U.S. District Judge in Virginia has rejected the Institute for Research: Middle Eastern Policy's request to file an amicus (friend-of-the-court) brief in the Espionage Act case against two former AIPAC lobbyists. United States District Judge T.S. Ellis III issued a formal order stating that briefs from non-parties would not help him resolve the issues in the case because both parties' "extensive briefs on the various constitutional arguments thoroughly cover the subject and assure that the issues . . . have been fully explicated."
"Judge Ellis doesn't currently feel the need for outside briefs, and that's certainly his prerogative" said IRmep director of research, Grant F. Smith. "IRmep's offer to to discuss how AIPAC has evolved into a quasi intelligence service, unregistered foreign agent and how AIPAC's overseas activities place America under heightened risk of terrorism is an open offer. We're standing by if Judge Ellis feels he wishes to call upon us."
Judge T. S. Ellis wrote in his formal opinion that amicus curiae briefs "may be helpful in certain cases," such as where parties are not adequately represented by counsel or a non-party "possesses special information or a unique perspective not otherwise available to the court." In the case United States of America vs Steven J. Rosen and Keith Weissman, however, Judge Ellis found no reason to believe that the issues "cannot be fully, fairly and appropriately resolved without the proposed amicus briefs."
The IRmep asked Ellis for permission to file an amicus brief on October 21 of 2005, arguing that IRmep could provide a unique perspective drawing from IRmep's body of research on little known aspects of AIPAC's role in the Middle East policy formulation process in the United States.
Judge Ellis relayed IRmep's offer in a formal written opinion:
"For its part, the Institute for Research has indicated that its amicus curiae brief, if permitted, would present the following points:
How AIPAC's organizational structure has evolved into a quasi intelligence service infiltrating the Executive Branch and Congress.
How AIPAC's operations on behalf of Israel make it an agent of foreign influence.
How AIPAC operations in the US that promote ethnic cleansing of Palestinians and law-breaking overseas increase the potential of terrorist attacks against Americans
See October 21, 2005 Letter from the Institute for Research, Re; Request to File Amicus Brief "
IRmep has worked to educate US attorneys and prosecutors about the dangers of AIPAC's activities in the United States. In an upcoming 250 page report, "Deadly Dogma: How Neoconservatives Broke the Law to Deceive America", IRmep presents a list of criminal activities by statute of US code, date of the incident, and perpetrator. IRmep continues to believe that timely, blind justice will soon become a major factor in improving US foreign policy formulation by weeding out corruption and espionage.
"The Rosen and Weissman prosecution is but a small island in a sea of extortion, espionage, wire fraud, tax fraud and conspiracies against the United States." stated Smith. "Hopefully, educational outreach through IRmep's amicus filings and books like "Deadly Dogma" will turn the tide and open up a tsunami of delayed, but well-deserved criminal prosecutions."
Ellis also denied a similar motion to file an amicus curiae brief from the Reporters Committee for Freedom of the Press. (Judge Ellis ruling on IRmep's Amicus filing request PDF)
---
About the Institute for Research: Middle Eastern Policy, Inc. - http://www.IRmep.org Institute for Research: Middle Eastern Policy is a non-partisan; independent research organization dedicated to informing and educating the American people about U.S. policy formulation process toward the Middle East. The heart of the IRmep's work is academically driven research formatted and distributed to be highly usable by the U.S. policy making community. Broadly funded by individual donors, IRmep maintains an independent research agenda that is accurate, relevant and actionable.