2007 Outlook: US Exports to the Arab Market on track to reach $45 Billion March 2007 (PDF)

Analyzes 2006 trade and estimates the import potential for each member of the Arab League. 2007 forecast GDP growth rate and competitive categories for US exporters.

-National US Arab Chamber of Commerce newsletter "Tradeline"

Arab Competitors in the Financial Times 500 (in Arabic) April, 2006
The Financial Times of London list of the world's largest corporations reveals how contenders from the Gulf in petrochemical transformation and financial services industries are muscling their way to top rankings in this authoritative index. IRmep provides perspective on what makes these companies special.

-Al-Eqtisadiah Newspaper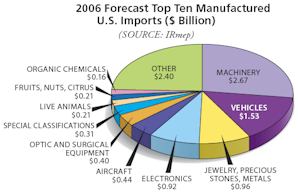 2006 Outlook:
US Exports to the Arab Market September 2005 (PDF)
Analyzes current status of US trade and investment framework agreements and sizes the import potential for each member of the Arab League. 2006 forecast GDP growth rate and competitive categories for US exporters.
-National US Arab Chamber of Commerce newsletter "Tradeline"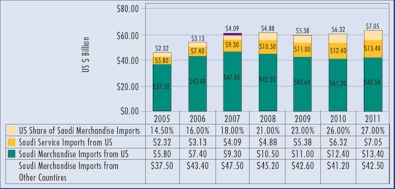 Current State of US-Saudi Business Relations March 2005
Examines current trade and exchange realities between the US and Saudi Arabia. Forecast 2005-2011 merchandise and service imports from the United States. Strategies for deepening trade and intercultural exchanges between the US and Saudi Arabia.
-US Saudi Arabian Business Council Newsletter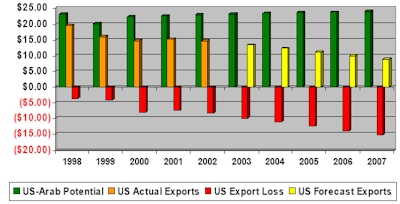 Dividends of Fear:
America's $94 Billion Arab Market Export Loss (PDF) August 2003

Worse case scenario analysis of the potential for massive trade disruption in the aftermath of 9/11. Examination of the role of the Israel Lobby in promoting punitive and Islamophobic legislation in the US Congress. Recommendations for pro-trade and development legislation to cushion, shorten and ultimately reverse the forecast temporary fall in US exports to the region.

-Washington Report on Middle East Affairs