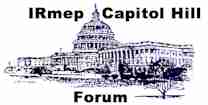 ONLINE REGISTRATION CLOSED

Read About this event in the news:
The Daily Star
The Guardian Unlimited
The Baltimore Chronicle

Or view online:
H.E. Imad Moustapha
Stephen Zunes, S.F. University
Grant Smith, IRmep

Real Video

Real Video

Real Video
The Syrian Accountability Act
a View from Syria
23:14 Minutes
The Syrian Accountability Act and the Triumph of Hegemony
17:16 Minutes
The Saudi Accountability Act of 2003
Evidence, Intent and Impact
17:09 Minutes
MP3 Audio
MP3 Audio
MP3 Audio


THE ACCOUNTABILITY ACTS: IMPLICATIONS FOR US POLICY

CNI and IRmep are proud to sponsor the special panel discussion on "Accountability Acts."
Panel members include
Dr. E. Faye Williams,

Civic Leader
H.E. Imad Moustapha, Syrian Arab Republic Ambassador to the U.S.
Grant Smith, Research Director of the IRmep Stephen Zunes, University of San Francisco , author of Tinderbox: U.S. Middle East Policy and the Roots of Terrorism
Ambassador Robert Keeley, former Ambassador to Mauritius, Zimbabwe and Greece
Eugene Bird, President of the Council for the National Interest
When:
2PM EST Wednesday, March 17, 2004
Where:
Holeman Lounge, National Press Club Building
529 14th Street NW 13th Floor
Washington, DC
Map of the Press Club
National Press Club (opens in a new window)
Parking
Public parking around the Press Club is extremely limited, plan to enter the area by public transportation or hired car to avoid delays.
Security Issues
All guests at the Press Club will undergo standard security screening at the entrance. Anticipate slight security and entry delays by arriving 15-20 minutes before the event. Members of the public that pre-register given priority at the entrance to Holeman.